Traces of the Holocaust- Workshop Sep 12.-13.th 2020 in the woods of Below / Germany
September 11, 2020 @ 18:00

-

September 12, 2020 @ 18:00

230€
In April 1945 more than 30.000 prisoners of the KZ Sachsenhausen, among them women and children, all of them unsufficiently clothed, undernourished  and weakened by the previous imprisonement, were forced to leave the camp to the northwest on foot , on a death march aiming to kill all of them. Hundreds died on this way or have been shot by the SS. From 23.-29. April 2019 a group of 16.000 people had to stay in the little wood of Below near Wittstock, after a distance of about 200 km. They had to rest without any housing or rations on the bare grounds, ring-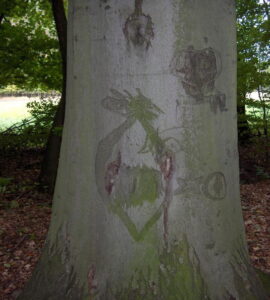 fenced and guarded by a chain of SS-soldiers. Approaching american and soviet soldiers could free those who remained alive between May 2nd and 4th 1945.
Until today, the engraved testimonies of these people are to be found in the bark of the trees in this wood.
We will meet on friday Sep 12th 2020 at noon directly at the memorial spot (arrival individually, transfer from train station Wittstock can possibly be arranged if not booked too late). We'll work in the afternoon (including a guided tour) and afterwards have dinner and a stay in a Hotel nearby. On 13th, we will work together another half of the day and start our ways back at 2 p.m. . Our work will take place in the memorial building as well as directly in the wood.
After a closure we will return individually (car sharing / transfer to train possible).
Like all of our meetings it is about all of us, open for everyone and no prior experience in psychodrama is needed.
Costs (including accomodation and breakfast; dinner to be paid additionally):
paid before July 15th 2020: 200,-€ early bird
paid after July 16th 2020: 230,-€